Bill-Smith Wedding
Date: 11/22/2014
Time: 4:30 PM
Location: Heritage Hall

Description:
Rachael Bill will wed Randy Smith at 4:30 PM in Heritage Hall on Saturday, November 22nd. A reception will follow on the grounds. A rehearsal dinner will be held at 5:30 PM on Friday, November 21st.
Events Calendar
There are no upcoming events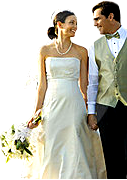 Tie The Knot
Whether indoors or out, Hamstead Acres provides the perfect backdrop for that perfect day.
Learn More

Take Their Word
Hamstead Acres is a wonderful venue for any event. We had our wedding here is March and I couldn't of asked for a more caring and dedicated
- Katy Conway, Snow Hill, NC